Personal training online or face-to-face with a certified Master Personal Fitness Trainer!
Private lessons with a Master Trainer. Through the internet or in my studio. Exercise programs, workout routines, yoga, pilates, core training, women's fitness, weight-loss and exercises for children, weight training for men, women and teens, senior fitness, pain relief programs, stretches for flexibility, improving your balance, pregnancy exercises, weight-loss, sports nutrition -- it's all here, online or in my gym.
Would you like a trainer who knows which exercises and meal plans are the right ones for you? What weight level you should be using? How many reps and sets you should do? How much cardio is enough? And which is better for you, carbs or protein?
Then you're in the right place. Because I'm not just any trainer, I'm a certified Master Trainer and Lifestyle Fitness Coach. I am committed to getting you to your health and fitness goals. I'm not just your trainer, but your coach and teammate as well. I am ready to invest whatever it takes to get you to your perfect body.
There are a lot of web sites out there providing access to lots of exercises, meal plans and recipes for token monthly fees, but that's all they're really doing -- throwing a database at you. You're basically on your own. And if stabbing at it on your own has been working for you, you wouldn't still be searching for help, would you?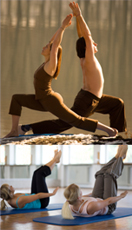 Training online with me is different. It is exactly what it says. Private lessons with me. Through the internet. I'm not going to throw you into a sea of exercises and meal plans and then let you sink or swim. I write your exercise programs personally. Or I provide you with your personalized meal plans.
And then I teach them to you. I won't just cut you loose like other online training sites do. I will continue to work with you throughout your program. Personally. You and me, talking on the phone, analyzing your results, and teaching you good form, or how to make effective meal choices. That's what a good trainer does. Guides you and teaches you as you go.
Because without good form, smart choices, and open and constant communications -- it's not really personal training at all. Why, it's not even training. It would just be delivering the results of a programmed script to you.
Isn't it time to stop guessing and trying out the latest fad diets and exercise programs? You've just found the one thing that truly works -- working closely with an expert. A Master Personal Fitness Trainer. In only two weeks with me you'll feel better, in two months you'll see and feel the changes, and in two years you'll still be looking and feeling great! Doesn't that sound like what you're looking for?
Play the video below to get an idea of my teaching style!