It's so easy to train with me from anywhere in the world!
You may be wondering if this is just another one of those sites where they sell everyone the same training and meal-planning program over and over again. Well, rest assured, it's not! The exercise and nutrition programs that you will get from me are programs that I will write expressly for you with all of the knowledge and skills that only a Master Trainer has. Your programs will be based on what I learn from you about your lifestyle and your goals. Your training programs will be exactly what you need in order to reach those goals.
Investing in online training with me gives you:
Your private introductory telephone interview.
The private lessons we have together by telephone where we discuss in-depth your weight-loss, exercise, or nutritional needs and concerns.
PLUS it includes the time it takes me to write all of your programs and meal plans.
AND the time I spend reviewing and analyzing all of your communications and uploads!
So, how does this work? Well, the first thing I want to do is meet you. After you sign up, you and I will have an introductory interview. We'll schedule a time to discuss what it is you want out of your exercise and/or nutrition program. We'll meet each other and set the stage for your success!

I'll ask you about your past history with exercise and diet, unearth the problems and obstacles that you may have had, and begin to formulate a plan for your success. This will give me a strong foundation to build on, a starting place for designing the program that's just right for you.
And don't worry, if it turns out that you don't have any workout equipment, that's not a problem! I've written exercise programs that use things that you already have in your home for training tools before.
And if I find out that you're too busy to spend a lot of time on your workouts or meal preparations, I can train you in shorter segments, or design meal plans that are On-The-Go! -- whatever fits your lifestyle!
Then I'll take all of that input and write your first program for you!
Let's talk about exercise programs first. After I write your program, I'll email it to you. It will have a start and end photo, plus a video clip that you can watch for most of the exercises in your program. There will be a written description of how to safely and effectively execute each one, with special notes I'll write to guide you carefully through them. And I will teach you your exercises personally, during our weekly private lessons.
You'll have your very own control panel on my website where you can upload your workouts so that I can see what you're doing. And every other week I'll contact you by telephone for a private lesson to review and modify what you're doing, or give you instructions on new exercises! I'll keep you on an upward path to your success!
If you're working with me on your diet, weight loss, nutrition and meal planning, it works the same way.
We'll have an introductory chat where I'll get to know what your goals are, and what's currently holding you back from them. You can tell me what obstacles are in your way right now, and I'll tell you how to overcome them. You can tell me how you feel about your body, and I'll tell you how to get the body you deserve. I'll hear about your lifestyle and then guide you through your busy day so that you can still maintain that lifestyle, but effectively change the way you eat.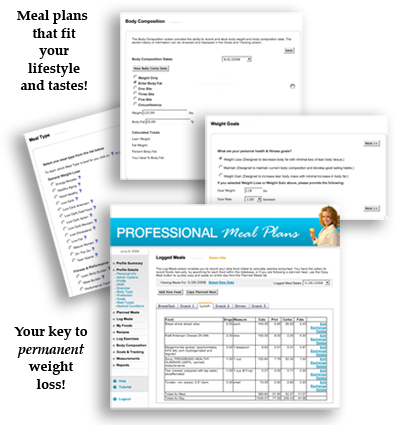 After I've talked with you I'll write a nutrition plan that fits your lifestyle, your likes and dislikes, and will take you to your goals! Your program will come with meal plans and grocery lists to make it oh, so easy for you to follow the path that I lay out for you! You'll have your own control panel where you can upload your actual daily intake so that I can see what you are eating.
Every other week I'll contact you by telephone for your private lesson to review your uploads and respond with comments or suggestions on how to tweak what you've already accomplished. I'll be taking you right to that perfect body -- the one that you've always wanted!
Now, the smart thing to do here would be to participate in both the exercise and nutrition programs at the same time. Because you know that when you've tried to do one without the other, it just didn't work, did it?
That's because exercise and nutrition are married. When it comes to health, fitness and weight-control they are inseparable.
Wouldn't the perfect diet be one that added power to your training sessions, allowed you to burn fat -- not muscle, and kept you burning fat long after you were done working out?
And wouldn't the perfect workout be one that allowed you to be able to eat without starving yourself, while still eating the foods that you like?

This is what Sports Nutrition is all about.
Diet supporting workout, workout supporting diet. That's what makes my programs different from other weight-loss programs. My knowledge of Sports and Nutrition. And how I put them together as a team. Sports Nutrition.
And if you work with the same person on both, sports and nutrition, the one that knows you better than anyone else where exercise and nutrition are concerned -- me, your personal trainer -- the only thing you'll lose is inches!
As a Master Trainer, I have all the skills and knowledge you'll need to get you to your goals no matter what they are. You don't need to go anywhere else. It's all here in one place. At Hitek Training.
Wouldn't it be great if you had lots of energy all day long -- with no downtimes?
Do you want a flat belly? Six-pack abs? An hourglass figure?

Then online training is for you.
Would you like your body to be pain-free and strong again?
Do you want to finally and forever get in shape?
It's time you invested in your future. Your future body. The one you want to keep for the rest of your life.